Weedless Garden Rolls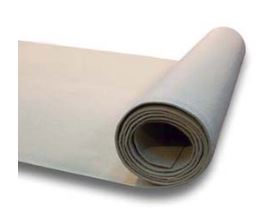 Weedless Garden Rolls

Our Weedless Garden Mat can be bought by the roll to cut and use in your own landscaping plan. It could be used under foundation shrubs around your house and is ideal under walkways. It never needs to be replaced, so is well worth the cost.
This cost effective weed barrier controls unwanted vegetation from invading your vegetable gardens and flower beds.
The Weedless Garden Roll is not a landscape fabric but a landscape mat that is guaranteed for life. By allowing water and nutrients to wick through the material, your plants thrive while weeds are denied sunlight. This product also keeps soil warm and moist, allowing you to cut your watering by a third. This environmentally safe product will also extend your growing season.
Simply roll it out, tack it down, cut holes for your new plants, and start gardening. This product is available in a large variety of sizes. Anchoring hardware supplied: (10) U-stakes.
Note: This product does not include enough U-stakes to reclose slits made to accomodate existing plants. Additional U-stakes may be purchased. To purchase rolls longer than 12 ft. call us for a quotation.
Made with 100% recycled materials.
Click here to view our Garden Roll installation instructions.
Ordering Information

Description
VPN
Description
VPN
3' x 4' Roll
SGGR-3X4-G
5' x 6' Roll
SGGR-5X6-G
3' x 6' Roll
SGGR-3X6-G
5' x 12' Roll
SGGR-5X12-G
3' x 12 ' Roll
SGGR-3X12-G
6' x 6' Roll
SGGR-6X6-G
4' x 6' Roll
SGGR-4X6-G
6' x 12' Roll
SGGR-6X12-G
4' x 12' Roll
SGGR-4X12-G