WeedEnder Donates to Veterans Farm of NC
Fayetteville, NC – 4.15.21 – WeedEnder announces a donation of $5700 to The Veterans Farm of North Carolina, Inc., located in Sanford, NC. The contribution will go along their new fence line and eliminate unwanted vegetation, and reduce man hours spent mowing and maintaining the fence.
Robert Elliot (USMC), Executive Director of the Veterans Farm of North Carolina said "I wish to thank you on behalf of The Veteran's Farm of NC, Inc., a 501c(3) nonprofit. Your donation of WeedEnder material is very much appreciated, and will be used specifically for teaching Veterans within our programs how to utilize materials in fencing installation to reduce weed pressure without the use of herbicides on fence lines."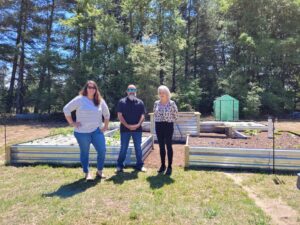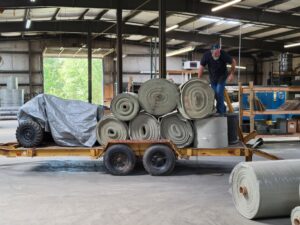 Ideal for residential and commercial use, the WeedEnder® Fence Barrier's dense fibers are made with 100% recycled plastic drink bottles. These fibers deprive vegetation of sunlight while allowing water and nutrients to easily pass through to maintain the root system around the mat. This minimizes erosion while controlling vegetation growth where it is needed without herbicides or labor intensive mowing. The WeedEnder® Fence Barrier is so resilient it can withstand weed eating directly on the material.
The Veterans Farm of North Carolina Inc. is a farm designed and dedicated to returning service members and veterans of all eras to educate on all aspects of agriculture. VFNC helps them earn through on farm production models of sustainable livestock production and organic vegetable production. Other mentorship opportunities with conventional farms are utilized for specialized interests for veterans wishing to learn about other avenues of farm production models. VFNC allows veterans to become heroes in life for a second time by helping them transition into becoming farmers for tomorrow. We help existing farmers with consultation and equipment usage to keep debt low and expansion potential high.
Russ Mason, owner and CEO of U-TECK, said, "As a North Carolina-based business for more than 35 years, U-TECK has always strived to give back to the community. The Veterans Farm of North Carolina is an extraordinary organization that cares for our veterans, military personnel and their families. Our contribution to VFNC will help us show our personal gratitude to the men and women of our military and to help ensure that they have accommodations and resources for themselves and their families while receiving treatment."
In addition to supporting The Veterans Farm of NC, U-TECK's employees are committed to being responsible corporate citizens by supporting not only their community, but also local projects and organizations. The company focuses on programs that address business, education, services for veterans and the military, health and human services, as well as the environment. Says Mason, "A strong community provides the foundation for businesses and industries to grow and prosper."