24 Hour Fridge Quick Pickle Recipe
It seemed somewhat natural that we would try our hand at pickle making… I mean, our cucumbers are thriving and our Dill has gone crazy and those are the two most important ingredients in making pickles.
After a quick search on pinterest, we found a '24 Hour Quick Fridge Pickle' for cucumbers and, since we have about as much patience as we do impulse control, this seemed like the perfect fit.
We made TWO different batches, one with cucumbers and basic brine, and the other with zucchini squash and a variety of spices.
Here are all the supplies we ended up using:
8 Medium Cucumbers
3 Large Zucchini
2 huge handfuls of Dill / 10-15 Sprigs FRESH Dill
8 Garlic toes
1 large Vidalia onion
Vinegar
Sugar
Crushed Red Pepper
Mustard Seeds
Ground Turmeric
4 Large Jars
A slatted spoon
A pot
Knife/Cutting Board
Because we we're going to be storing them in the fridge, we didn't need jars that were going to seal, so we just grabbed a few big ones from the store.
For our Cucumber Quick Pickle, we got half our cucumbers, sliced them to the desired thickness (we sliced them in rounds for this one) and set them into the jar with one handful of the dill. When using fresh dill use 10-15 sprigs … next time I want to try them with an Ice Bath at this step.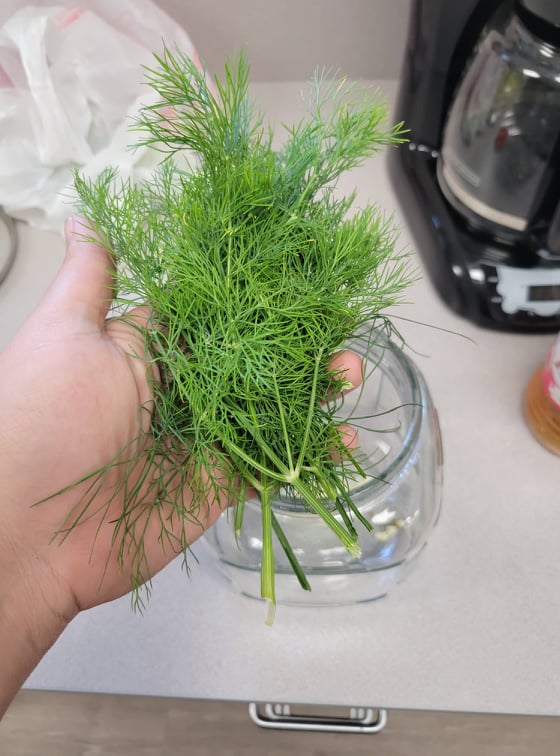 In our pot we poured:
8 cups of water
1 cup vinegar
4 crushed garlic toes
½ Cup Sugar
1/3 Cup Salt.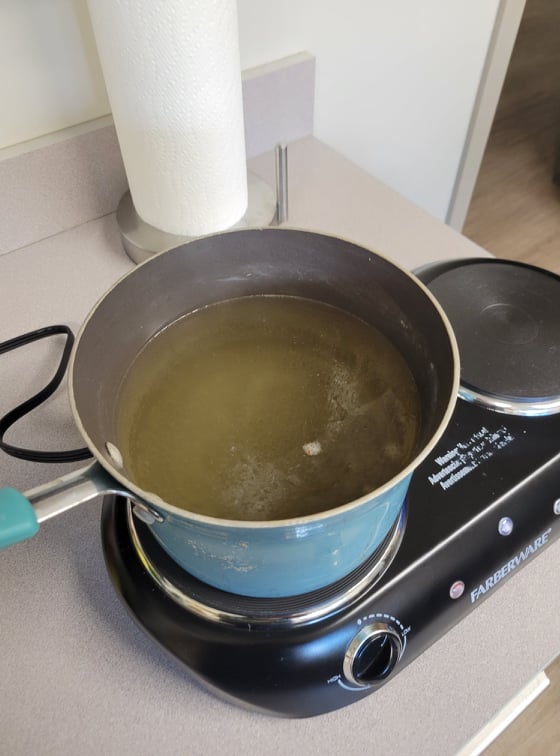 We brought the entire thing to a boil, and then poured over our jar with our Cucumber Slices and Dill.
Once it all reached room temperature, we refrigerated it. I'd be lying if I said we waited the full 24 hours to try them. We had one about an hour later and it already had that distinct pickle flavor! The next day they were even better.
We then repeated the whole thing, but cut our cucumbers the long way…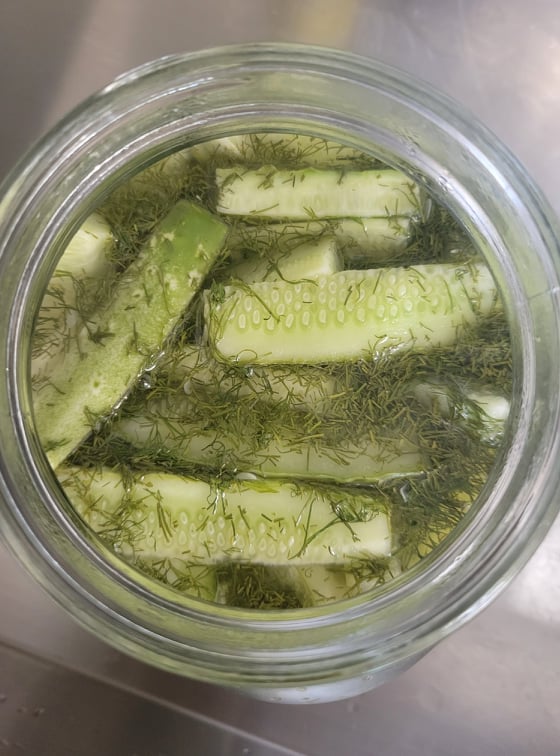 For our Zucchini Pickle, we used three LARGE zucchinis but this time we cut them lengthways and put those in the other jar with the other half of the dill.
For this brine we added:
1 Medium onion, sliced vertically
1 1/3 cup vinegar
1 cup sugar
4 crushed garlic toes
½ tsp red pepper
1 ½ tsp mustard seeds
1/8 tsp turmeric
Once again we brought it all to a boil, and then poured over our zucchini slices, and once it was room temp we put in the fridge for 24 hours.
Each batch of pickles turned out amazing! There was definitely a distinct flavor difference, but it was still very enjoyable. Everyone at the office has been eating on them all week, and it's super satisfying to know that the cucumber, zucchini and dill were all grown by us!
We have since made a whole 'nother batch for our cookout this Friday!