DIY Homemade Bruschetta!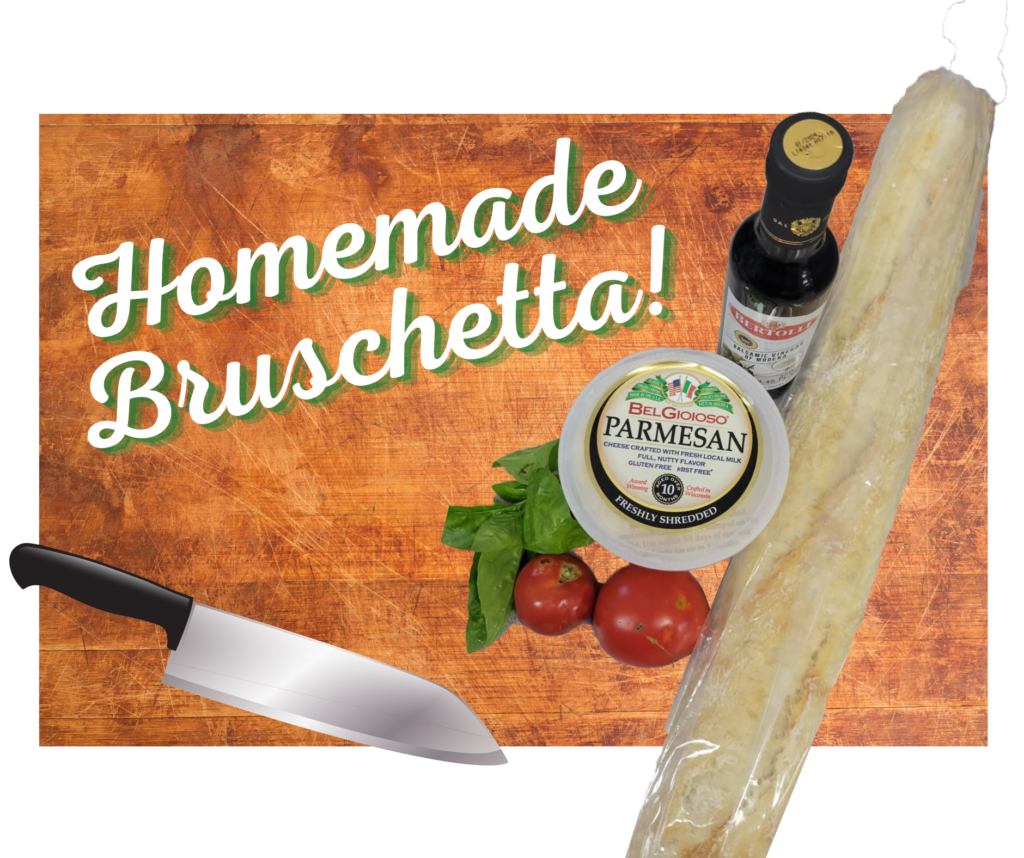 If you haven't tried bruschetta before, you are missing out! Bruschetta is an Italian dish, that is traditionally served on a toasted baguette.
Bruschetta is one of my personal favorite appetizers, and since we have an abundance of garden fresh tomatoes and basil, we figured we would try our hand at making it before summer was officially over (although it's great ANY time of the year!)
Here's the list of ingredients needed to make our simple bruschetta appetizer!
8 medium Tomatoes
1 teaspoon of salt
½ teaspoon of pepper
5 tablespoons of olive oil
2 garlic clove
8 basil leaves
Parmesan cheese
⅔  cups of balsamic vinegar
⅓  teaspoons of balsamic vinaigrette dressing
X1 loaf of Italian Bread
(this made up 25 crostinnis)
For our bruschetta recipe we picked fresh tomatoes from our garden, diced them up into pieces and placed them into a bowl and set aside.
Next we added 5 tablespoons of olive oil to a pan, and once it was hot we added 2 fresh basil leaves from the garden, 2 minced garlic cloves, and a dash of salt and pepper to taste.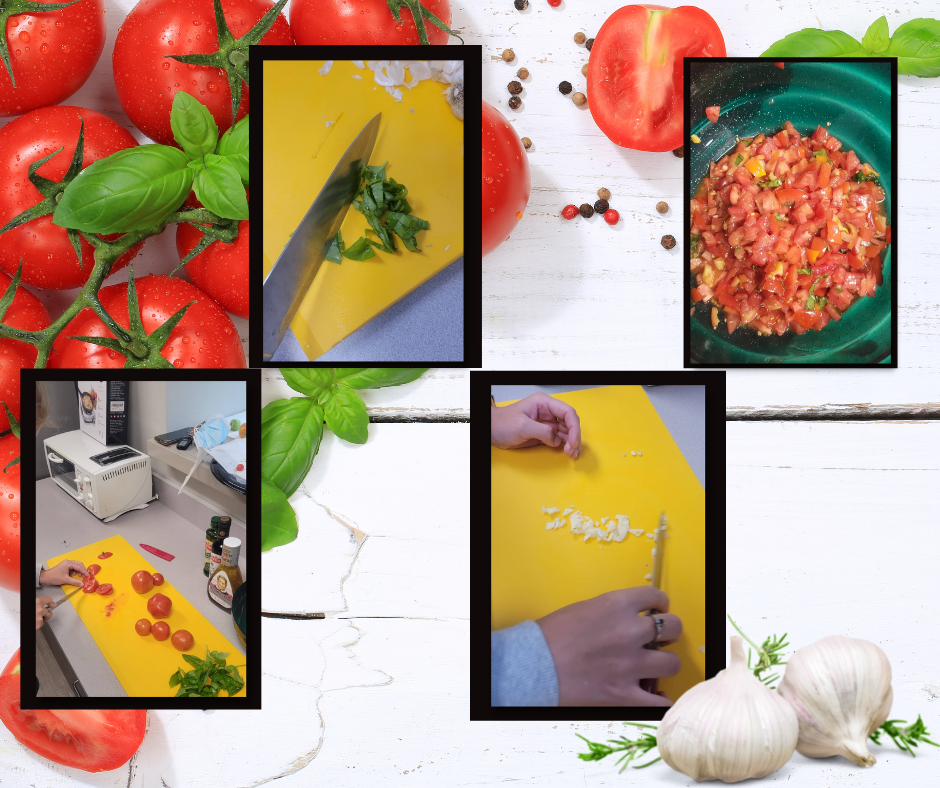 Some recipes don't call for this part, but we wanted to infuse the oil with the delicious flavor of garlic and basil before using the mixture to coat our tomatoes!
Once it was sizzling, we reduced the heat and tossed in our tomatoes, the rest of the basil, and the rest of the salt and pepper. At this point you just want to WARM your mixture through, not get it HOT.
Remove from heat and set to the side while you prep your bread.
Before we put our bread in the oven, we coated both sides with olive oil.  We used the toaster oven in the office for this part. We baked it at 350* for about 5-7 minutes. When the bread was ready, we rubbed it all over with a garlic clove, adding a little extra burst of flavor to our bruschetta bread!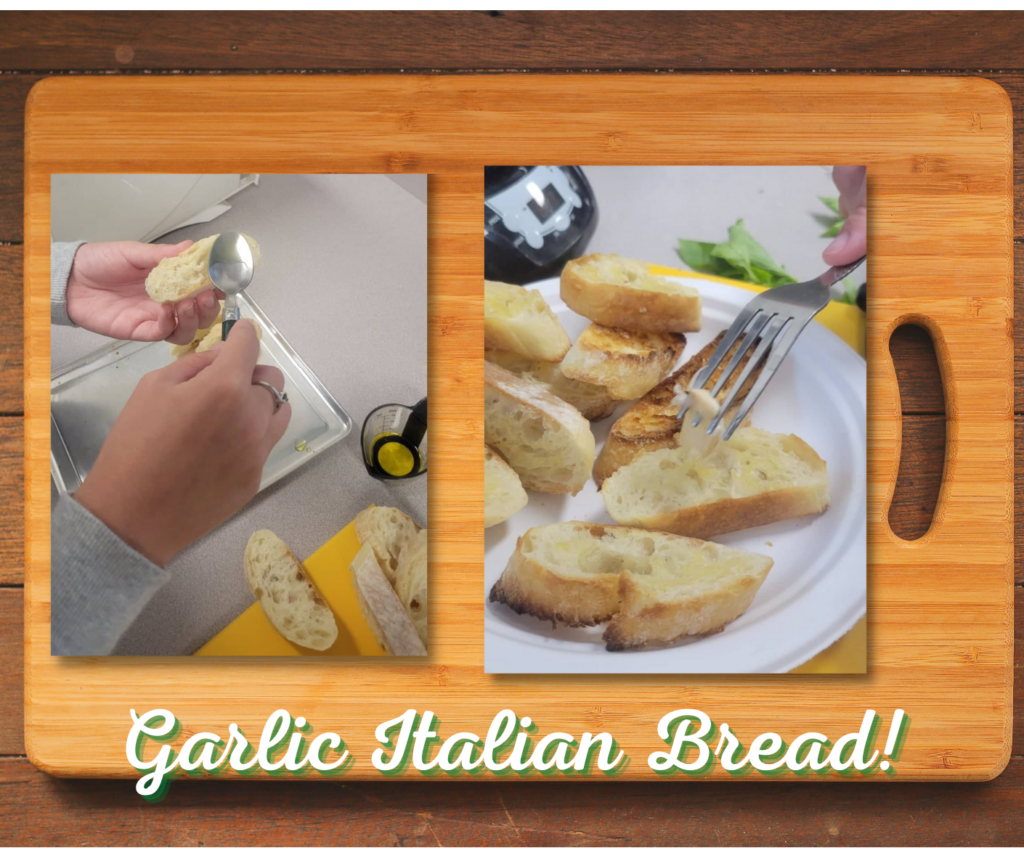 In a little measuring cup we mixed together the ⅓  cup of balsamic vinegar and ⅔   cups of balsamic vinaigrette dressing, to make it a little thicker we didn't include as much of the balsamic vinegar.
Lastly we added our mix to our bread, drizzled our balsamic vinaigrette dressing, sprinkled a little more basil on top and topped with fresh Parmesan!