Conserve and Protect our Water Health – with WeedEnder®
How can a simple landscaping fabric conserve OR protect our water health? Get rid of the picture in your head of the black standard landscaping fabric – because WeedEnder® is a product of a completely different caliber.
How does WeedEnder® work?
On the occasion that vegetation management is needed, WeedEnder® stands above the rest of the products available. WeedEnder® is a landscaping fabric by definition, but it is so much more… constructed of a very dense, multi-directional web of single use post-consumer polyester fibers, it is totally impregnable to sunlight and vegetation.
Weeds and vegetation need three things to grow and thrive:
1) Water
2) Nutrients
3) Sunlight
WeedEnder®, (when properly installed) totally blocks the suns ability to reach the earth's soil. Water is allowed to wick through due to a specially formulated process. This allows the root system to be nourished slowly (through percolation), thereby greatly reducing erosion from taking place – either under or next to the WeedEnder® installation. Due to this special percolation method, this product is a no brainer for areas prone to runoff and water pollution issues.
Protecting our Waterways
WeedEnder® is ideal for maintaining a riparian buffer zone along sensitive natural streams, rivers, and waterways. WeedEnder® is an eco-concious "Context Sensitive Solution" (CSS) tool which preserves and enhances the natural qualities of the surroundings and, because no herbicides are needed before, during or after the installation of WeedEnder®, it is safe to use around these sensitive water areas.
WeedEnder® is water permeable which helps reduce storm water run – off and slows erosion, lessening environmental impact. WeedEnder® is an excellent tool to be integrated into Low Impact Development (LID) projects extending green spaces in urban and developed areas.
The Virginia DOT also uses WeedEnder ® around fresh water reservoirs like the picture below. This site from Virginia DOT was chosen because of its location along the bank of the Swift Creek Reservoir which provides 20% of the water supply in Chesterfield County. Concerns from the public regarding water health made this a great alternative to spraying herbicides and contaminating a natural water source.
Because WeedEnder eliminates the need for dangerous chemicals, it also helps to increase the soil health, reduces air pollution and encourages wildlife and natural resources to flourish in areas where it is utilized – increasing WeedEnders resource efficiency tenfold!
For drought inclined climates.  
WeedEnder ® is also used as an erosion control measure and in drought tolerant landscapes and hardscapes . Because WeedEnder ® is constructed from randomly laid fibers, it prevents sunlight from reaching the ground underneath, but freely allows water to pass through. Logically, if sunlight cannot penetrate through it, the soil underneath will stay wetter longer. Therefore, gardens using WeedEnder® require less watering.
Environmental Impact
WeedEnder can be used to help protect threatened, endangered and fragile ecosystems due to its many green benefits, as mentioned above. Here is a list of all the environmental benefits of WeedEnder:
Eliminates the need for hazardous pesticides and herbicides.
Reduces runoff to waterways, increasing potable water sources and encouraging preservation of this natural resource.
Encourages natural resources to flourish such as plants and animals
Can act as a fire barrier, reducing the spread of non-contained wildfires
Reduces water needed for drought prone climates, increasing the availability and access to fresh water and fresh foods to the peoples living in these climates.
Assists in providing (for all people of the United States) access to clean air and water.
Is a great step towards maintaining a Sustainable Environment
WeedEnder has a very low impact on the ecology of the areas which it is installed.
WeedEnder®  is made entirely from recycled polyester consumer single use bottles and is environmentally neutral. This non -vegetative treatment makes great sense when trying to eliminate herbicide use in eco -sensitive areas such as this scenic byway in the Redwood Forest, CA.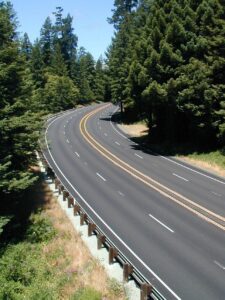 There are no environmental concerns with WeedEnder , as it has been deemed totally environmentally safe! WeedEnder® does not rely on (or need) herbicides or pesticides to inhibit vegetation growth. The  WeedEnder®  system actually works with nature without residual effects to the vegetation, the soil, or the surrounding environment. Weed Ender® is made from 100% post consumer plastic bottles. For each mile of WeedEnder® , approx 50,000 bottles are kept from being sent to the landfills.
Disposal
Due to its unique makeup, WeedEnder comes with a 20 year warranty! It is designed to be cut, but won't rip! When (and if) the time comes to remove WeedEnder®, the soil beneath is totally unaffected and vegetation would begin to grow again immediately because WeedEnder® does not affect root stability.
Unlike herbicides, any scrap materials from installation of the WeedEnder® can be disposed of in any dumpster or other conventional method. – No special precautions are needed.