Weedless Garden Plot Planting Suggestions
Need some help planning your Weedless Garden Plot? Here are some tried and true veggies that will be perfect in your new 40 hole or 54 hole:
Tomatos, Peppers, Basil, Chives, Kale, Lettuce, Peas, Beans, Parsley, Cilantro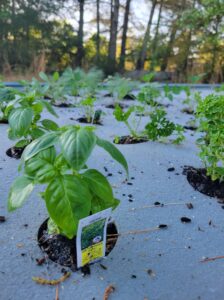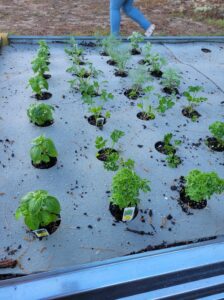 For items such as squash, watermelon, zucchini etc that require more space and vining we recommend utilizing WeedEnder with a trellis (so the vines can grow UP vs. OUT) or ensuring to space your items far enough apart.
Remember, we recommend extending your garden plot 2 feet beyond the mat to have an area for broadcasting seeds like carrots, radishes, greens, or planting onions.
For decorative beds, applying a layer or mulch to hide the fabric. Unlike regular landscaping fabric, mulching etc. will not cause any damage due to rot issues.
This 40-hole Weedless Garden Plot (with hole centers spaced 8 in. apart) can be used for vegetables like potatoes, cucumbers, cabbage, squash, etc. or anything that needs a little more growing space. Use that extra 2′ area for scattering seeds or planting flowers.
The 54-hole Weedless Garden Plot (with hole centers spaced 7 in. apart) is ideal for plants that can be a little closer together. By planting in every other hole you can use this plot for the larger plants or plant in every hole for smaller plants. Of course, tomatoes, eggplant, or any other vegetables can be planted in this plot as well as the other two plots. Onions, greens, or flowers could be planted in the extra 2′ area at the end of your plot.
Weedless Garden Plot Varieties Available: