About WeedEnder® for the Home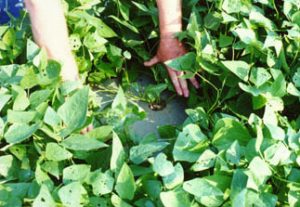 Development and Uses of the WeedEnder Material
THIS IS NOT LANDSCAPE FABRIC!
In 1983 U-TECK was formed to supply products and material to the utility industry, telephone and power companies. These products were designed to solve problems of safety and maintenance of utility lines.
One such product was a method of controlling weeds without the use of herbicides and repeat. This type of product was later realized to have an even larger need with the Department of Transportation in a number of states.
This resulted in the development of the WeedEnder product which is now recognized as a leading alternative to herbicides.
While using and demonstrating the WeedEnder, we received repeated requests to develop the same type of product for the home and garden market. An avid gardener, Ann, was very excited to take on this endeavor. After 8 years of trials and development, WeedEnder for the home gardner was ready for release.
"What Makes WeedEnder Different"
WeedEnder is made from 100% recycled plastics.
WeedEnder is guaranteed for life!
WeedEnder is ¼" thick.
WeedEnder is made by a unique method that makes it almost impossible to rip.
WeedEnder's unique design allows water to pass through to the plant root.
By using the garden plot made of WeedEnder, it is impossible to retain too much water around the roots.
WeedEnder Plots and Runners are designed with holes cut at even spacing to match spacing required for different types of plants. You simply plant your plants or seeds in these holes.
WeedEnder's density will not allow sunlight to penetrate and promote weed growth. The part of the plant coming out of the hole is the only one needing sunlight.
WeedEnder keeps the soil warmer thereby allowing you to start your garden earlier and keeping it productive longer.
You can easily reach the plants from the sides of the Garden Plot.